As Mark Twain once said "buy land, they're not making it anymore." Historically, rural land investments are one of the most stable investments an individual can make. It usually maintains or even increases in value over time. Land investment also provide diversity in a portfolio of assets. In Texas, urban growth has spurred intense speculation in metropolitan areas. This pressure has also affected rural land prices resulting in a steady increase in land values over time. The chart below shows the real and nominal median price per acre change in Texas since 1972.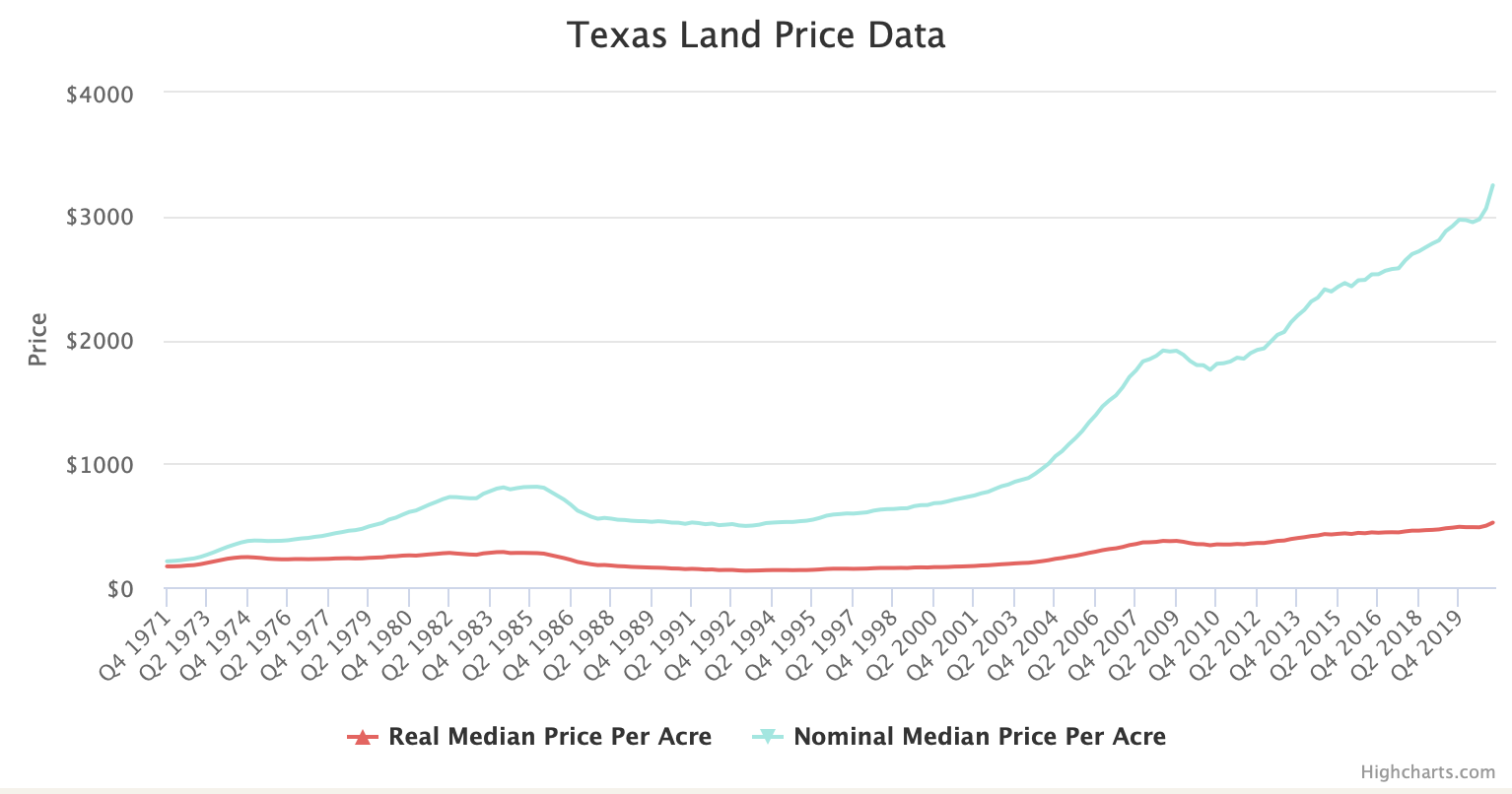 From the mountains of West Texas, to the prairie regions of the Panhandle, the midlands Hill Country, the shores of the Gulf, and the eastern piney woods, Texas has an extremely diverse landscape. As a forester and real estate broker, the piney woods of East Texas are my primary focus. East Texas is home to 43 counties. With 38% of the state's land area, 11.9 million acres of productive East Texas timberland  support a multi-billion dollar forest products industry. While ranching and farming are prevalent statewide, timberland and its revenue-producing potential is exclusive to East Texas. I believe this is one of the reasons why East Texas land values have consistently outpaced the average per-acre rural Texas land value.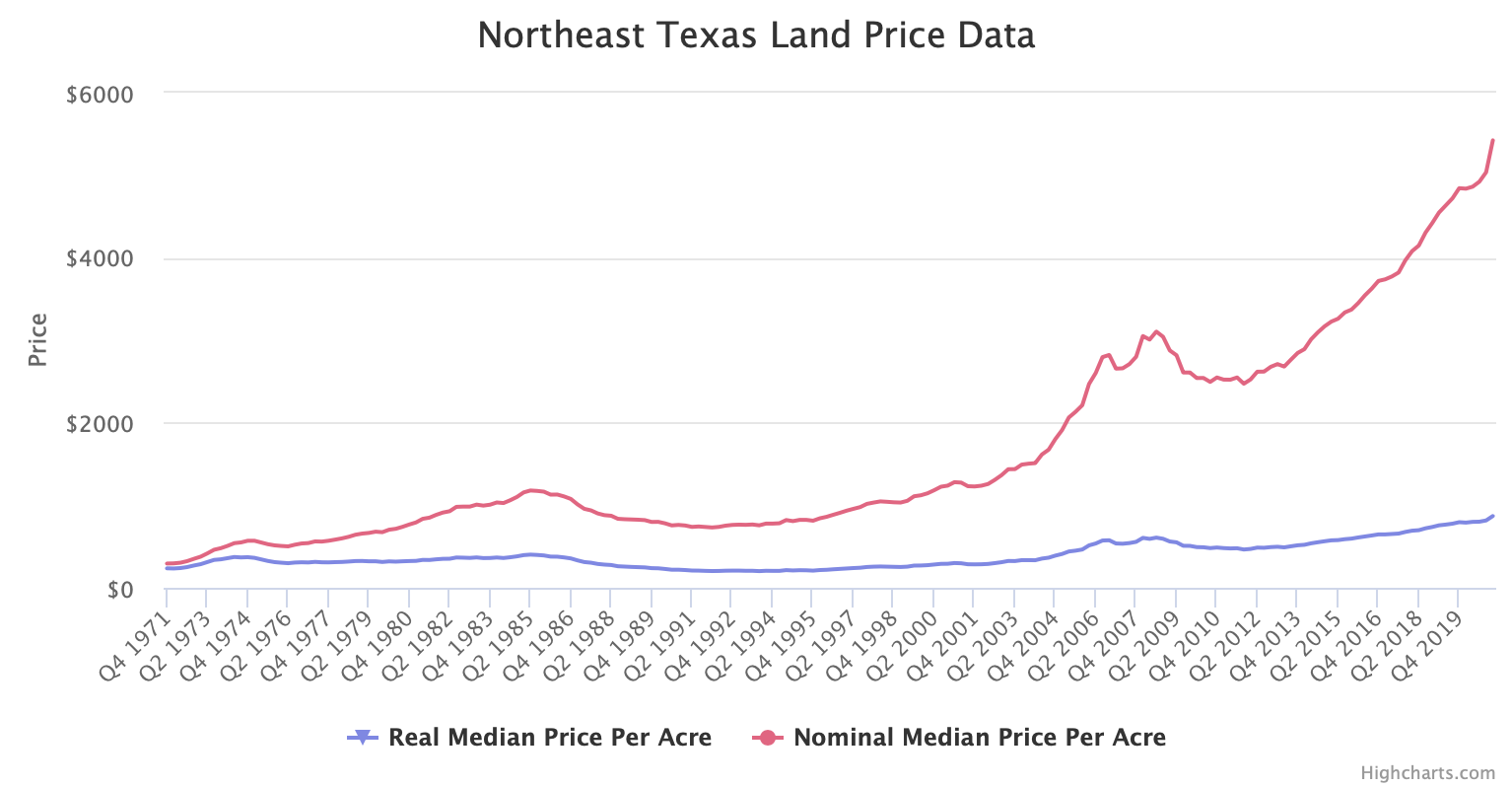 The Texas economy is as diverse as its landscape and is positioned for continued future growth. The following information collected in March 2021 illustrates the growth in the Texas economy.
Texas Economic Summary as of March 2021
Texas unemployment rate was 6.9%. 1/
Texas gained 99,000 nonfarm jobs and 106,600 private sector jobs. 1/
Texas factory activity expanded for the tenth month in a row. 2/
Service sector activity increased sharply. 2/
Retail sales activity increased sharply. 2/
There are more than 42 new project locations announced in Texas that are expected to create $51.67 million in capital investment and 895 new jobs. 3/
Texas exports totaled approximately $24.87 billion, up from $15.8 billion in May 2020. 4/
Initial unemployment claims through the week ending April 10, 2021, continues to be lower than the highest spike in April 2020. 1/
The Texas workforce was 14 million, up from 13 million in May 2020. 5/
Sources: 1/ Texas Workforce Commission, 2/ Federal Reserve Bank of Dallas, 3/ EDT Research, 4/ USA Trade, 5/ U.S. Bureau of Labor Statistics
These statistics help explain why the current real estate market is as hot as ever. East Texas timberland is not only an investment, but also a great way to get away from the stresses of life. Unlike other investments, rural lands provide limitless recreational opportunities. The East Texas woods provide an opportunity to gather family and friends for hunting, fishing, horseback riding, or ATV riding. Whether investing "sweat equity" that improves the property or simply being a place to enjoy hiking or relaxing around the campfire, land provides the opportunity to create experiences that will remain with you forever.
How can we help you?
Forest Resource Consultants is a forestry consulting and real estate brokerage firm with locations throughout the southeastern United States. With offices located in Jasper, Lufkin, Nacogdoches, and Silsbee, Texas, our team of experts can help you develop a customized management plan, provide forest inventory assistance, or assist with timber sales and reforestation projects. We can also assist with any of your real estate needs.  Contact us today to discuss how we can be of service!